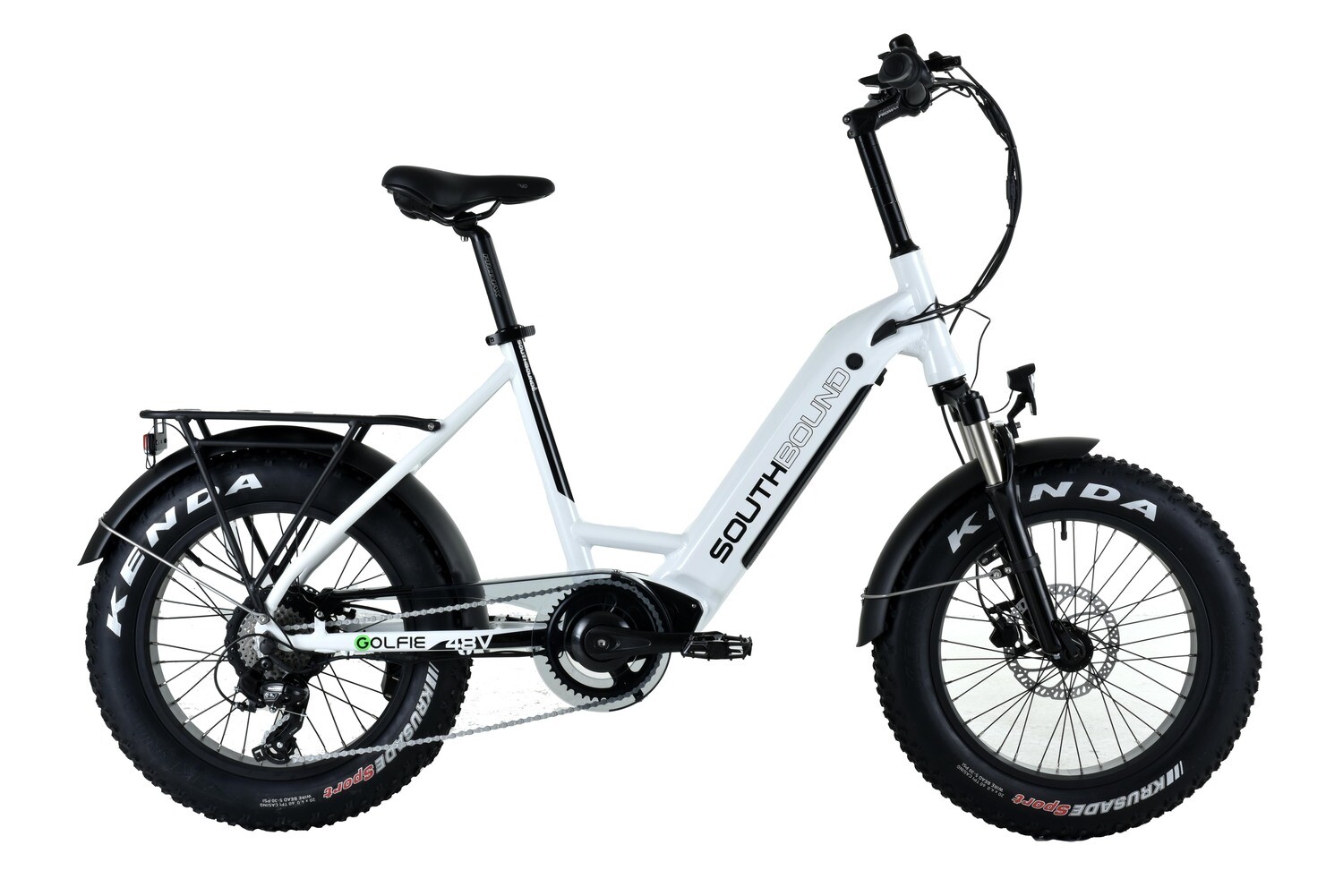 Golfie is much more than a golf bike. It's light, multi-functional, and smart. It's fitted with all accessories that you need for a comfortable and seamless game. It can be used as your commuter by clipping out the golf bag holder in seconds.
GOLFIE BENEFITS :​
​
The Golfie allows each golfer to proceed directly to their ball, adding speed, fun and the freedom to complete 18 holes in just over 2 hours.

Tyres are wider and softer than normal bicycle tyres, allowing one to use the bike on any terrain while minimizing damage to the green. It has a low to zero impact on the field, compared to a golf cart, especially in damp conditions
​
The 500 W motor and the 48 V lithium battery offers plenty of power to help you climb inclines with ease and ranges up to 70 km on a single charge. There are 5 pedal-assist levels to provide the desired degree of exercise while riding to your next shot ,from 0 (no assist) to 5 (full assist)

Less energy consumption, fast charge time, faster play, more fun, low maintenance costs, less turf impact are factors that contribute to revenue and customer satisfaction.
​
​
​ GOLFIE SPECIFICATIONS :
​
MOTOR :

500 W / 48V BAFANG REAR HUB

BATTERY :

48V 11.6 Ah PANASONIC 560 Wh ( up to 70 Km )

GEAR :

SINGLE SPEED with SHIMANO TENSIONER

BREAKS :

TEKTRO HD Hydraulic disk (Mineral Oil)

TYRE :

KENDA 20 x 4.0 Krusade

FRONT SUSPENSION :

N/A - ALUMINIUM RIGID FORK

REAR SUSPENSION :

N/A

CHAIN :

KMC Anti-Rust
​
​
​
​
​
GOLFIE SPECIAL FEATURES :​
​
- Patent and design registered multifunctional and detachable golf bag
holder - Perfectly balanced and able to function as a bicycle stand for a smoother game.
- Anti puncture fat tyres - Anti puncture tape and an additional liquid
sealant inside the tube prevents punctures of up to 6 mm instantly !
- Ergonomically correct cell phone holder - Holds the phone firmly.
- USB Port charger - Ensure phone charged at all times.
- Score card holder - Holds a pencil, 6 tees and 2 balls.
- Universal bottle cage - Designed to hold all drinks .
- Sand and seed bottle - A Slick and light design.
DRAW IN MORE GOLFERS AND DIVERSIFY REVENUE STREAMS.
Improves the pace of play, increase rentals at golf courses and appeals to the crowd looking for adventure, excitement, and fun.